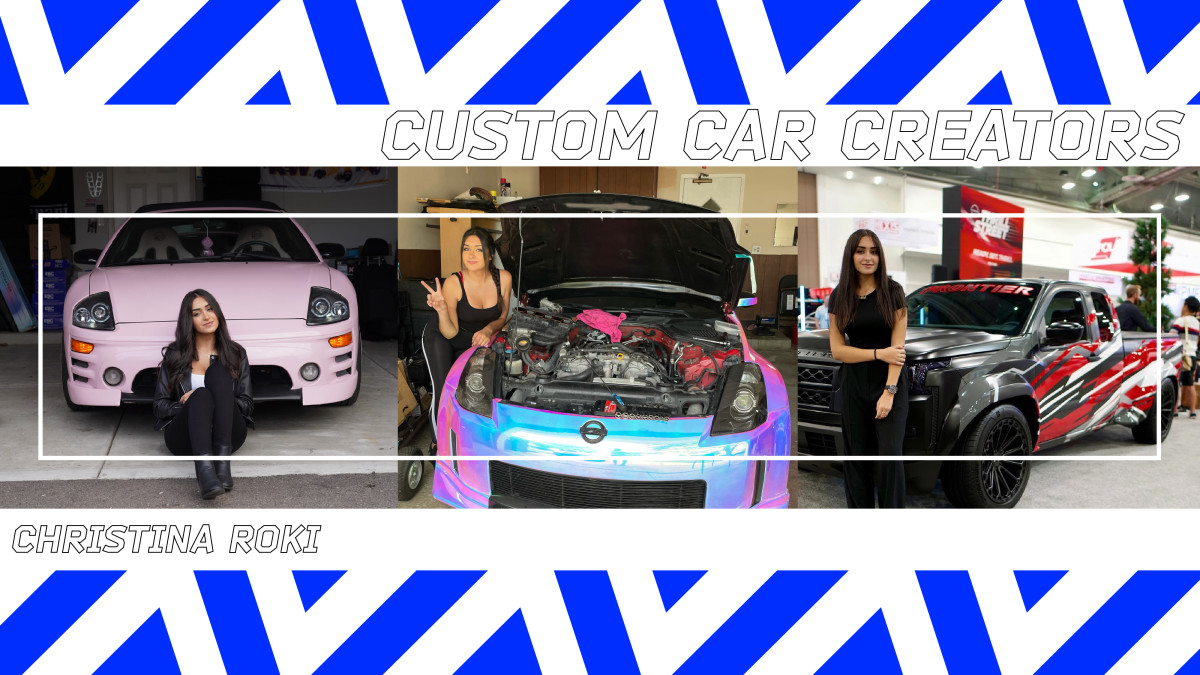 Christina Owns Her Ridges by creating the crazy custom wraps for … – Complex
Head-turning cars are Christina Roki's specialty. With the craziest chrome wraps and customizations we've ever seen, she is on a mission to create one awesome car after another. In a classic entrepreneurial fashion, she bought her first car in college with scholarship money and immediately started posting the restoration process online. Her personality is inspiring and motivating, and when she sat down with Complex to talk about her journey, we could feel the drive that she has inside. Christina Owns Her Ridges by creating opportunities for herself to take over the car industry one step at a time. If you're wondering, Own Your Ridges means owning what makes you, you. And in It's easy for Ruffles to notice individuals like this who have a positive message to spread across their platforms. Her crazy cars are just one aspect of her upwards and onward attitude that is elevating women in her industry and making cars seem that much more accessible.
You've done some pretty awesome makeovers. From your glitter wraps, to making a 1,000 horsepower drag car from out of a barn find. Obviously, there are a lot of aspects to what you do, but I wanted to ask what your favorite about customizing cars is?
So it's a lot of hard work, but it's always worth it in the end. I like seeing the finished product and moreover, seeing the reactions of my family and friends. They'll hear about cars I buy to customize but they don't get to see the car while it's stuck in the garage. When I finally show them, they can't believe it's the same car, and I really enjoy those kinds of reactions.
Building off of that, car customizers like you are artists with the car being the canvas. I was curious about what attracts you to a certain car that you want to customize, and what does Owning Your Ridges mean to you?
Awesome question. So I think what draws my attention to a specific car is the potential it has. So Owning My Ridges means being able to see the potential of a cheap car, and being able to even take it to a car show or a nice restaurant. It's cool having it valeted because they think it's a nice, expensive car, but really it's like a $3,000 car that we customized.
Being able to stand out a little bit and get that pride from your work almost, right?
Yeah, exactly. By taking pride in my work and showing that there's potential in a $3,000 car or a $30,000 car.
So when you customize a car, how much of it is following the standard protocol that you might learn when you're working at a shop? And how much of it is having to think outside the box to make things work for each car?
So it's very vehicle specific, right? I may buy a car from a barn that was used for the barn and the farm. It might be totally muddy and dirty and beaten down. So a lot of times, being able to try to follow standard protocols doesn't work. Also, time constraints. When I built the 1,000-horsepower barn find, we had to finish it in less than a month. So there were a lot of things we couldn't follow the standard protocol for, and we couldn't wait for certain parts to arrive. It's pretty 50-50 depending on the vehicle.
Awesome, in any field, you're going to have to make something fit something that wasn't necessarily supposed to.
Exactly. I think it just all depends on your constraints, whether it's time, parts arriving, or the condition the vehicle's in.
What's the first thing you do to every car that comes in? Do you have a signature customization?
I think there are two things. I always like to use flashy or crazy wraps. I've done a lot of chrome and color-shifting wraps in the past. I like neo-chrome a lot. And I think one of the first things I always look at is chrome deleting. Obviously, it's also vehicle specific. Depending on if it's a luxury brand or vehicle, or a sports car, and what I'm trying to go for. But I think I always like to chrome delete and use crazy wraps.
I remember the first time I saw a chameleon wrap when I was a little younger, and it absolutely shattered my world.
Oh, it blows people's minds. And a lot of people don't understand that it's a wrap, so you have a lot of elderly people coming up to you thinking it's an expensive paint job and I have to explain, "No, it's much cheaper than a paint job."
So that's your go-to signature, what's your favorite aesthetic modification? What's your favorite functional modification?
In terms of cosmetic modifications, I love clear headlights and taillights. So I take out the redness of the taillight and it becomes a very white, clear, LED taillight, so that's also a signature modification I like doing all the time. And then for functionality, I always love modifying the exhaust just a little bit. It depends on the vehicle again, if you're going to swap out the whole exhaust or small pieces of it. I think it makes the car more fun if I'm customizing it for someone else and they want to hear and feel the car. Another functional modification I like doing is an air intake. I love taking out the air box and swapping in a nice air intake. It makes the engine bay look a lot nicer. Of course, it's functional, but it takes up a lot less space than the giant air box that's always included in factory vehicles.
I think I noticed that in a few of your videos, and you always have the little key chain too, right?
Yes, I always have the air filter key chain that comes with it. So depending on who I'm customizing the car for, I like to include it to remind them that they have some functional modifications too.
If you're at a car meetup or event, what's something that you're going to totally geek out on if someone pulls up with it?
I think something I always like to geek out on when I see at a car show or meet, obviously, is crazy chrome wraps. I love seeing cheap cars that are well done and well taken care of. That's something that my boyfriend always makes fun of me for. I'll see a cheap car that you don't see very often and I'll totally geek out over it, instead of an expensive car. But there's a lot of older, cheaper Japanese cars that I geek out on.
"I always like to use flashy or crazy wraps."
It's more interesting. There's a story and someone had to work a little harder.
One-hundred percent. You have to work hard to find and maintain it. A bunch of them are so unique. A lot are right-hand drive and there are different stories behind the older vehicles. As you said, there's more character to them, so I think that's why I kind of geek out over them more.
So on top of that, you are pretty open about everything you like. But what's your guilty pleasure mod? Something that you want to do but don't want to show people.
It's definitely interior work. A lot of times I show a glimpse of it or mention it briefly, but I don't fully show it when it comes to taking out the vehicle trim or wrapping it. It's just a small modification that makes the interior look a lot better. So I always like changing out the interior trim, whether it's silver and I swap it out with carbon fiber pieces or wrap it, it depends on the exterior color of the car. That's definitely something that is a guilty pleasure of mine.
Is that something that is frowned upon to do in the car community or is it just your personal touch and you don't need to share it?
I think it's just a nice touch that I like to keep to myself and whoever I'm customizing the car for. It's intricate details that you wouldn't really catch unless you're driving the car every day, and people will come up to me later and tell me they didn't notice certain things until after a week or two of regular use. And I wouldn't say it's frowned upon, but there are a lot of people out there that say the trim and the design of the interior are there for a reason. Why fix it if it's not broken? I do agree, but it's just something I like doing. It's a nice touch.
Do you drive a super nice or souped-up car every day, or do you have a daily driver? And why would you choose whatever you do choose over something else?
So I would say that it just depends on my situation at the time. There will be months when I have so many cars and I don't know what to choose from. And then there will be months where my cars are either going on a national tour, or they're just going to different car shows, and I have no cars at all. I have two sisters, so I'm either borrowing their cars, or I'm asking my mom to pick me up. But of course, I think it's really important to have a daily driver, something low-key that's not very souped up. But sometimes I don't have a choice. If I did have a choice, I would continuously drive a souped-up car, whether it's winter, summer, rainy, or snowy, I don't care.
Have you ever had a moment where the only cars you have are in pieces and you have nothing, but you have everything?
It's so bad. It happens more often than you think. There'll be times when I'll have a car in my garage and a car in guest parking, and they're all non-drivable. I'm like, "Wow, I need a bike or something. This isn't working out." But it just always depends on the time of the month and what events are going on.
So speaking of car shows, is there anybody that's influenced your builds the most? And would you say that they know how much they influenced you?
Good question. I think obviously when I started modifying vehicles, a lot of it came from attending a lot of different car shows and events and piecing things together on what I liked and what I didn't like. Everyone has their own opinions on things, and that's why you decide to build your own vehicle and customize it the way you like. So I don't think it's a specific person. I would go on social media also, and just scroll to get car ideas.
I think what I liked really stuck when I started doing crazy wraps, like neo-chrome wraps, after that it became a staple. I didn't see it going around much, honestly. There's a certain type of chrome color-shift wrap that I really enjoyed, so I just started doing it more and I think that just sparked on its own because it was so different. And I really enjoyed conversing with people about it when I stopped to get groceries or gas. So I think it just kind of sparked from within as far as my aesthetic and what I enjoyed the most.
So you mentioned going to car shows. I wanted to see how you view the industry and the community as a woman who's been very successful and is providing a platform for other young women to see, learn, and grow from. How has that experience been?
I appreciate that question because, honestly, I feel like I don't talk about it much. Now that I'm within the industry, I kind of forget that I was an outsider at one point. It was difficult for me to not be afraid to ask questions or feel dumb because I didn't know something commonly known in the community or industry.
Specifically, and I've talked about this recently with my manager, there was a show last year I didn't know about. It's the ultimate car show. If you're a car person, you know exactly what that car show is. Last year I had no idea what it was and I brought up the question, and there were people talking down to me about it, just last year. I never came across it. I didn't have anyone to take me, it's in Tokyo. And this year I haven't even spoken about it yet, but I got invited to that show and I think it's absolutely insane because it's kind of like a "take that." I mean I'm super humble and obviously, I think being genuine about everything helps you go through any industry, not just the automotive industry. But I think that was pretty insane. It was kind of a full-circle moment for me. I'm thinking, "Wow, I'm getting invited to this show I had no idea about last year, and it's all the way in Tokyo."
But I think for all the girls and women that watch me, they're so interested in cars, but they just don't know where to get started. That's the platform I like to provide. Only because I didn't really grow up with a father figure or someone that could teach me, or had a classic car in the garage that I could grow up fixing or helping out on. It was just something that spewed out during financial situations with my mom, and her having cheap cars that would constantly break down. After I met my boyfriend, he introduced me to the car culture side of things. So then I got the best of both worlds, and I realized you can modify cars and not just fix them. Long story short, I went to college and I wasted all my scholarship money on a project car and I started posting about my progress on social media. A lot of times I would post saying that I had no idea what I was doing or talking about how I tried fixing something and I broke it even more.
I think that's really important because that makes women or girls watching more comfortable when I show that I'm not going to be perfect at every single modification or thing I do. I'm going to break things, I'm going to make it worse. Versus saying, "Hey, I did X, Y, and Z, and I was able to execute all perfectly and successfully." That's not how it works, especially in the car world because every car's different and in different condition. And you have to be okay with breaking things and admitting that sometimes you don't know what you're doing.
"I think for all the girls and women that watch me, they're so interested in cars, but they just don't know where to get started. That's the platform I like to provide."
Of course. It's awesome that you're now a part of the industry like you said. Everybody starts at the same place when learning. If you're starting as a guy, it's more acceptable to be a beginner.
Yeah, just to roll off what you're saying. If you're a guy, you don't have to take the extra steps to prove your point that you know what you're talking about. And I feel like a lot of times if you're a girl and even at industry-related events when you're talking to these big companies, you really have to prove that you know what you're talking about. And I still deal with that to this day. I think it's just one step at a time to keep moving forward, and actually showing all the girls that you're learning, everyone's learning.
You really have to prove your point an extra step, but it shouldn't be something that you let get to you. I think it is changing over time. There's a big difference between when I first started and now, and it's going to continue to keep changing, but we just have to be the people that change it.
Yeah, of course. And I think adding the human element that you do in terms of messing up, making mistakes, and breaking stuff makes cars so much more accessible. And then, also, having the guides and walkthroughs that you make helps too.
Yeah, one-hundred percent. And like you said, a lot of times you'll watch a tutorial on something online, and it goes nothing like what they explained. And so I think I like to turn that around and say, "Hey, you're probably going to break this when you take it off, just so you know, but you're going to keep going."
Do you want to talk a little bit more about that 1,000-horsepower project you did? It sold for a bunch of money and smoked that other car it was up against, right?
Yeah, it was absolutely insane. So that drag race actually took place in Detroit, Michigan, which is where I'm from. A lot of the bigger car-related events always take place in California, Vegas, Arizona, or Florida. It was really cool to be in the Motor City, so I knew I had to do it. It was in less than a month, and they reached out asking if I would be willing to participate in the drag race. I had to engine swap the car for a specific engine, and I could tune it and modify it so it would go faster, but it had to be that engine. And I had never done that in my life before, and I also wasn't capable of doing it in my house.
So that's when I started reaching out to people I knew in Detroit. Luckily, Performance Lab Detroit, who are great friends of mine, agreed. When we finished, it produced over 1,000 horsepower. That was absolutely insane. I had never drag-raced in my life so it was all new to me. Racing is a lot of money and I'm still a broke college student, so it was just an opportunity that I was able to take because I got invited to it.
We were building the car up until the day before the event so I didn't get much practice time. There were two practice runs and then the real race, and my two practice runs were so bad, it was so embarrassing that it lowered my confidence a lot. Performance Lab Detroit coached me through it though, watching me drive and helping me adjust. In the end, it's all about your reaction time as well. So after those two practice runs, I listened to all their points, and then we actually won the race, so that was really cool.
Fast forward, we engine swapped the car and I didn't know what to do with the car because I'm not a drag racer. It's a pretty cool car, but I had to move forward and find another car that I wanted to customize. A company reached out and they wanted to take it on a national tour. So it went to 12 different cities across America, and then it ended up in LA. And after LA, they decided to auction it off. I bought the car for $12,000, and the car sold for $50,000. That was insane. It's a really, really cool story behind that vehicle. And I don't have many stories tied to my own vehicles because I like to customize a lot for my friends and cousins and family, but that's a really cool car story behind my name.
That's awesome. It's really cool for a 21-year-old to have been able to put their ego aside and say, "I don't know what I'm doing."
One-hundred percent. And I think that's what obviously allows you to grow and learn more, is by admitting you don't know what you're doing. Take the advice and actually listen to it, then apply it. So I think that was also really important. And it was all within a short matter of time. I'm like, "If I want to win this race, I have to stay focused and listen to what they say. Even if it feels a little weird and out of my comfort zone, I'm just going to try," and it worked.
"If I want to win this race, I have to stay focused."
So in addition to that, as you mentioned you customize your family's cars. You did your sister's, that looked awesome. But each car is so unique to each person, what's that like?
That's why I enjoy customizing cars so much. Every single person is different. Everyone I'm close to, they all like their own things, they all have a different favorite color and they're around me so often, I grew up with them, so I know what they would enjoy. It's almost like a Christmas or birthday gift. You know what to get and not to get them. So I like to apply that to a car. My older sister is such a girly girl. She loves pink. She's not a huge car person, but she enjoys having a cool car because she sees my cars all the time, and feels left out.
So long story short, she took a month-long trip to Europe and I thought that would be the perfect time to buy one of the cars that she's always mentioned she wanted. It was something that she would think is unreachable, at least not any time soon. It was a cheap car too. I got it for $3,500. And then I just started modifying it. So of course, I knew all the things she would like but I also took some risks here and there. Once it all came together I had to hide the car somewhere else when she came back. She was asking me where her other car was and I had to keep telling her it was at the shop. It was a whole deal.
And then I surprised her with it at work. I drove the car to her work and she put two and two together. It's a bright pink car with a bow on it, she knows it's going to be hers, so it was all great. I think it's really fun because it just depends on the person and what they like, and I like applying that to the vehicle both inside and out.
Is there a favorite customization that you did for somebody?
I think since it's all pretty recent, I really do enjoy my older sister's car, just because it is really recent. I had this vision when I wanted to purchase the car for her and do these modifications and it turned out exactly how I wanted it to. Seeing her reaction made my day. I get to see the car all the time because I live with her, so I think it's one of my favorites.
"That's why I enjoy customizing cars so much. Every single person is different."
Is there a process for you in terms of customization? You said you saw it in your head and it came out exactly how you saw it. So what's the process from you seeing it in your head to making it happen?
When you see it in your head, you have to be able to just literally explode your diagram and nitpick every single little piece that's going to make it just how you pictured it. Whether it's chrome delete, changing the wheels, or small things like a tint. Sometimes, you have a picture in your head and it just doesn't turn out how you pictured it. You just have to keep picking pieces and adding things or removing things until it really turns out the way you pictured it or at least close to it.
So I think the process isn't really steps, it's just kind of all over the place. Whether it's something you're working on in the roof of the car, the sides, the wheels, the wrap, or the headlights. I think it's just working from all different angles, and working until you've finally reached what you envisioned in your head.
That sounds like a lot. How do you keep it all organized?
I always make lists. I have a small notebook actually, and I also use my phone notes. I always make sure I write down everything I want to do so I don't forget it. And sometimes I don't get to certain parts and I decide it's fine without it. Sometimes I create a certain budget for myself. So that's why I'll start picking pieces to cut from the list because I know it won't make a big difference.
There are a lot of games and softwares where you can search for the car and modify it. It might not have all the parts you want, but you could get a general idea by changing the color of the car. Or just go on Google Images and search up the specific vehicle and find pink wrap, and just try to use those images to visualize your version of it. I think it comes with practice too. After you do a couple of cars, you get the hang of it. You could probably just find any car and envision what it would look like just with practice.
What's the longest you've spent on a certain car? And then building off of that, is a car ever truly done, or is it a constant process?
The longest I've ever spent on a vehicle was two years. It was one of my first project cars, the one I bought while I was in college. It took longer because I had to manage my money, and I couldn't just purchase everything all at once and put it together. Also because of work and school, I didn't have as much time, so I had to just pace myself.
I like to say that a vehicle can be marked off as done, but I do get the general conversation when people say that a build is not really done and that you're always adding to it. And it's true, your personality changes as you grow with your car. And your opinions change about parts over time, so you change them, and you just keep going. I get both sides of the story.
It sounds like you took a pretty big risk when you used your scholarship money to buy your first car. It's awesome that you did it because look at where you are. What inspired that risk and how did you manage it?
I pretty much had a full ride to the university that I was going to, but you can also apply for more scholarships throughout the year. There are always small ones that you can apply for here and there. So I was always in the academic's office asking for and applying to new ones. Of course, I didn't get every single one of them, but I would get a good amount. And of course, for birthdays and Christmas, I was asking for car parts. So that's how I managed the money part of things.
But it was a big risk because I could have spent that money, obviously, elsewhere. After I saw the car culture side of things, I was like, "I'm not going to sit here and wait until I graduate to build a car. I want to try this out now. And if I fail now, I'm still in college. Whatever, I'm still getting a degree." So by doing that and by posting online, it was just perfect timing. Of course, I had to maintain my grades.
That's really interesting. It's great advice for anybody who's a little bit younger and trying to get into it. And especially for younger girls, it shows that it's possible that you can literally do it at any point in your life. How old were you when you did it?
I was just turning 18, actually.
That's awesome that you can be 18, buy a car, and start working on it while you're in school. That's a lot of initiative and it shows that anybody can do it.
One-hundred percent, I agree. I think that's why I also try to talk about that more because we can really just bring out the message that you should be taking advantage of bigger institutions, and not in a bad way, of course. There are so many helpful organizations, scholarships, and companies that want to help, and you just have to have the initiative, and create an opportunity for yourself where there isn't one already. And I think that's what makes people stand out more, rather than just following a general path and not searching for opportunity.
That's huge advice. Because you're not necessarily taking advantage of them, but you're taking advantage of the things that they offer that they don't always talk about.
Exactly. And I think whatever your passion is, it doesn't have to be cars, it could be motorcycles, makeup, fashion, or even engineering, you can create an opportunity. It doesn't have to be an institution, it doesn't have to be a university. It could be high school, it could be at your job, it could be at a non-profit organization, or a company that you follow and know. They have a lot of different opportunities out there, you just have to do the research. And everything's online, so it's super easy. And don't be afraid of them saying no and turning you down because there are a bunch of other open doors out there, you just have to find them.
Yeah, that's great advice. So obviously, you're extremely driven and motivated, and clearly, you have a vision for what's going on, but at the same time, you're taking opportunities as they come. Do you have any plans for after graduation?
So that's a question my mom always asks me because it's hard for her. She's foreign and I'm a first-generation college student. It's hard for her to wrap her head around social media and how everything works nowadays, with marketing and stuff like that. So she's always asking what jobs I'm thinking about after I graduate. And I don't know, I'm just taking things as they come. After a couple more semesters, I'm done. I'll just figure it out and see what opportunities are out there, or just create one for myself.
So it's really hard trying to get her to understand, but I have a huge goals list that I want to reach even before I graduate. And then I have another list that I want to accomplish after I graduate. I want to work with other companies, I really do want to use my engineering degree, and also, obviously, the social media platforms I have. It would be great to work together with companies and build or develop something. So hopefully that's in the works after I graduate.
That kind of seems like the next logical step in terms of your platform and stuff like that. If you're in a traditional career, there's a path set up, and you know exactly what's next. But there's not necessarily a plan for you. It's your path and you're making it every day.
One-hundred percent. Owning Your Ridges is being able to, even if there's just a closed path or the path takes a turn, you optimize that. You take advantage of what's available and keep going. So I think even just going back to just Owning Your Ridges and the whole Ruffles campaign, I'm so thrilled to be a part of it because it really describes my story, and I think it's really important for people to also be inspired by it. When there's a situation that comes into your hands, Own Your Ridges and take advantage of the opportunity, and create something good out of it instead of focusing on the bad.
It goes way beyond the car community too. Having Ruffles highlight the car community is beyond words for me. I think it's so cool because I feel like the car community doesn't get talked about enough. Whether it's creative ideas, ideas for car customization, or through social media and being able to provide advice online, Ruffles is helping to spread awareness and make it more accessible. So it all ties in together.
"You take advantage of what's available and keep going."
You've worked with some awesome companies lately. And you've mentioned a few things, but what separates Ruffles from the rest, and what is the best part about working with Ruffles?
I think it's so cool because obviously Ruffles is known for being a chip brand, and the fact that they're highlighting the car community is super cool. Having this initiative of asking the car community what it means to Own Our Ridges is important because I think it's a question no one else could answer better than car enthusiasts because they are individuals and are constantly customizing their cars, and they're always building off of one another. And of course, we're always snacking too, whether in the garage working or at a car show. So I think working with Ruffles is so cool because it's a non-automotive brand and they love the car community and the car culture, and just want to talk more about it and highlight it. So I think that's what really separates Ruffles from the rest.
What's a trend that's going on right now that you could just live without?
Honestly, it's not a new trend, it's still trending because it's still a common thing, I just don't prefer bagging vehicles when it comes to having air suspension. It's something I could live without, I've never done it. Maybe I'd like it if I tried it and added air suspension, but in terms of being able to bag a vehicle and lower it to the ground when you're parked at a car show or just at home, it's definitely something I could live without.
So talking about trends, what do you think your prediction is for the next year or so in terms of trends? What's going to be popular?
Good question. I really think the car community needs to do a better job at highlighting and customizing electric vehicles. It's just something the car culture is terrified of. Obviously, we love engine modifications, and I feel like it just limits them when it comes to electric vehicles. But I think that could definitely be turned around, there are endless possibilities with electric vehicles. It's something that I'm scared of and I haven't started yet, but I think it's something that I do see arising within the next year or two.
And hopefully, more car companies can get in on that and provide a project for certain automotive influencers, have them customize an electric vehicle, and show their audience. That would hopefully be part of my job one day, and I could show people it's not that bad while encouraging them to make the switch. They're great for daily driving and they're fuel efficient. I don't know when, but I do see that happening within the next couple of years.
"I really think the car community needs to do a better job at highlighting and customizing electric vehicles."
Yeah, it's a little scary going from being a mechanic to an electrician.
Oh, yeah. I think there are going to be a lot more certifications involved within all of that. Hopefully, car manufacturers can do their part to make it more accessible and easier to work on if something does go wrong. Then you could take it to a mechanic and they can open up something without having to go to a dealership.
The market is virtually untapped.
Exactly. So I hope that they can be more enthusiast-friendly when it comes to electric vehicles. And there have been some releases here and there of a concept vehicle, but obviously, they're not out yet. Hopefully, we can get our hands on them early, so we can create content with them and customize them. And say, "Hey, this is the next thing. We have to accept it and optimize it. Own Your Ridges. Just do something with it and take advantage of it."
"Own Your Ridges. Just do something with it and take advantage of it."
So coming to a close, what's one piece of advice you'd give to a beginner car enthusiast?
I think this one's really easy. Just going back to what we said, don't be afraid to break things. Don't be afraid to ask questions. Don't be afraid to admit you don't know something. I think that's my biggest piece of advice. You could be working on the most expensive car or the cheapest car, but it doesn't change the fact that if there's something that you need to learn then just admit it and don't be afraid. And obviously, it comes with practice. The first couple of times you're going to feel so uncomfortable saying you don't know something that everybody should know. But you learn that it's really not bad to admit you don't know and that you're learning.
That's great. That's exactly it. I'm curious also, is there any specific advice you'd give to younger women also?
Yeah, what I mentioned before is advice for everybody, but that applies more to just women in general. And because we're so pressured to feel like we have to know stuff in order to have credibility as a car enthusiast or just to be in the automotive industry. So especially them, just to not be afraid. Don't let that lower your confidence. And you don't have to be a total mechanic or a car nerd. You can be a total makeup nerd or a fashion stylist, and still enjoy vehicles. You don't have to try to box yourself into a specific niche just to fit within the car community. And I think that's what makes the car community so diverse, is having mechanics, and people who are into fishing, makeup, fashion, and all sorts of things.
Of course, it's awesome. It's a melting pot. So what's next for you in terms of any projects you can talk about? And if you have any final shoutouts or remarks?
So I'm working on my cousin's car right now. I decided I wanted to do this as a Christmas gift. She knows I'm customizing her car, but she doesn't know exactly what I'm doing to it. So I'm going to be revealing that on Christmas day or Eve. I literally just thought of this a couple of hours ago. Since it's a Christmas gift, I want to wrap the car in gift wrap after I'm done. So she can literally unwrap her gift and see what the car looks like. I've been posting the first couple of days and I have to wrap it up before Christmas.
Other than that, I just wanted to say just thank you to you guys and Ruffles and Complex for highlighting the car community, and especially for choosing women within the car community, because I think that's also very important. There are a lot of automotive brands and industries out there that love to have these campaigns, but forget that they need a woman to be able to talk about certain things, just because we bring a totally different side and perspective, and have different opinions on certain things too that need to be talked about and shared. So I'm very thankful that you guys were able to give me your voice too, and have a fun conversation highlighting my cars and builds.